Minerals and Protein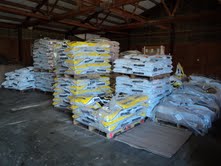 Protein:
Cattle:
Protein Tub 200lb 24%
All Natural Protein Tub 200lb 20%


Minerals:
Equine:
Equine Loose Mineral
Beet Pulp With Molases
Cattle:
Trace mineral Salt
Loose White Salt
P1 Beef Mineral
P1 14% High Mag Mineral
Breeder Mineral with increased Phosphorous
Vigortone 3V5S Minerals
Vigortone 3V6S Minerals
Vigortone Minerals:
As a result of using Beef Range Minerals a producer can expect:
Improved Weaning Weights
Improved Cow Longevity
Improved Conception Rates
Increased Pasture Utilization
Improved Profitability
Vigortone is the nutritional leader in providing high-quality, free-choice minerals for beef herd. Vigortone has been a leader in animal nutrition since 1912. One of the reasons for Vigortone's success is their continual testing and use of field trials for the development of their successful nutritional programs. Vigortone 3V products are best described as advanced nutrition technology and are the result of experience, field research and attention to formulation detail. Special care is given to formulating for low levels of nutrient antagonists in the formula such as sulfur and iron. The result is a more potent mineral formulation, accounting for potential nutrient tie-ups resulting from consumption of forages and water high in sulfur, iron or molybdenum.